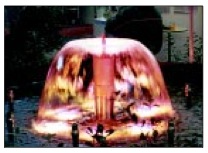 PEM Calyx jets are made of cast bronze, brass and stainless steel fitted, the plugs have thread protection and vandal resistant lock bolts. The construction of the jets with cast in center rod holder and female pipe connection permits direct mounting to all types of threaded pipe.
For best performances use undisturbed water supply, always mount jets on pipe risers of minimum length of 5 x nominal pipe size. Dimension "A" indicates the most common installation height, however this dimension can vary.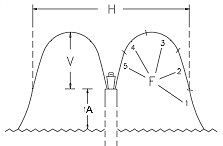 The larger jets with widest plugs are ideal for above waterlevel supplies for multilevel cascade pools, as they will prevent backflow without check valves, while at the same time enhance the overall appearance of the water feature, the flow can be increased by opening of "X". Suction Strainer "SS" to have openings maximum 50% of "X". Different spray performances & appearances are achieved by altering the break up point "F". Flow and Performance can be varied by the opening/closing of orifice. PEM 320 Series Calyx Jets produce calyx or mushroom style spray effects created by the deflecting of a flow of water at various angles from a circular orifice. The spray angle must be specified, otherwise 250 will be supplied.